Black 8.5" Hummer Hoverboard with Bluetooth speaker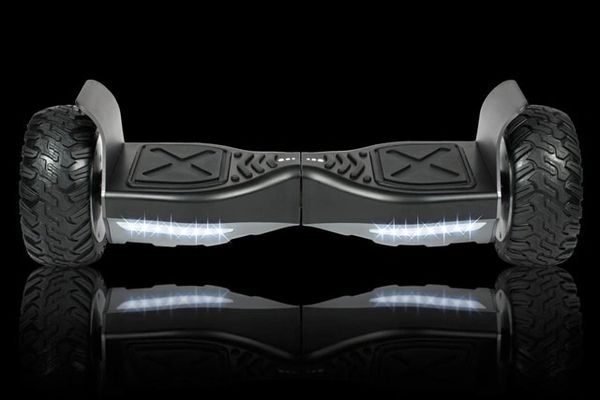 Black 8.5" Hummer Hoverboard with Bluetooth speaker
Ships from Alberta. Usually it takes 3-4 days to ON and QC. 2 Days to BC. 1 Day in Alberta.
This Hummer Halo hoverboard is most popular hoverboard upgrade since it was introduced in 2017. It comes in the standard black color and has widest wheels of any hoverboard. It is perfect for all terrains, like sand, grass, etc.

8.5" wider wheel Hummer halo hoverboard is the best choice for you to ride across the grass, dirt sticks and all soft terrains. It includes a Bluetooth speaker but it does not have the "App" as we do not feel there is any value in the app.

  BLUETOOTH SPEAKERS: YES
  NEW HALO WINGS: PROTECTS BOARD FROM DAMAGE
  TIRE SIZE: 8.5 INCH INDESTRUCTIBLE NEVER-FLAT TIRES
  MOTOR:  8.5" 700 WATT ELECTRIC POWER MOTOR
  WATER RESISTANCE: IPX4 WATER RESISTANT
  SPEED: UP TO 10 MPH
  RANGE: UP TO 12 MILES
  WEIGHT LIMIT: 44 LBS TO 260 LBS
  HILL GRADE: UP TO 20 DEGREES
  LED HEAD LIGHTS: YES
  BATTERY LIFE: UP TO 3 HOURS
  SAFE BATTERY: UL 2271 CERTIFIED LITHIUM ION BATTERY
  CHARGE TIME: 2.5 HOURS
  WEIGHT: 32 LBS
  FOR AGES: 7 AND UP
  GUARANTEED WARRANTY
14 DAY REFUND, 3 MONTH REPAIR, 1 YEAR PARTS WARRANTY.
Note - this item no longer comes with a free carry bag.

Reviews